I've been writing about
PPD
and it's really hard. Reallllly hard. I'm pretty sure I'm correctly conveying about one percent of what I am trying to say and the rest is lost in a muddle of weird references and improper grammatical structure.
So today I say, "SCREW YOU, WORDS." Gifs are where it's at. Also, #irony. Love me some irony.
This is how I feel as I slog through the writing process:
That face you make when all the thoughts fly out of your head at once.
DRAFTING:
LEAP OF FAITH!
(I'm sure the bunny is fine, you guys.)
No, seriously, who wrote this?
This is when discouragement and self-loathing kick in.
PUBLISHING: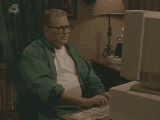 What did I just do? *sobs*