I said I wasn't going to do it.
And I haven't.
Yet.
To what am I referring? Nope, not
marijuana
.
I am referring to going half out of my mind planning and executing a birthday party for a two-year-old.
Making lists upon lists of things to do.
Spending oodles of money.
Making much ado about nothing (not the birthday itself, just the idea of spending hours of my life planning a party for someone who won't remember it and really just wants "CACK-O-LAT CAKE, MOMMY!")
You, know. The usual.
So far I have decided NOT to fill up 100 helium balloons (like last year), bake 10 homemade pizzas, crochet favors for every party guest, place said favors in hand-folded origami boxes, hand-sew hats and aprons for all the children, make Grover a costume,
attempt epic feats of cupcakery
, decorate any and all available surfaces, and then feel bad because I didn't manage to DO IT ALL.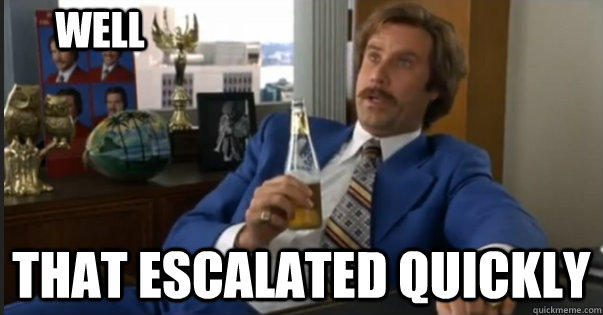 Also, I'm probably not going to manage to re-paint the entire upstairs, stain the transition pieces for the new floor, figure out a way to turn the sofa white again, scrub every surface, make art for the painfully bare dining room wall, or even dust.
If any of this bothers you, you're welcome to babysit my children for a week or two and see how productive you are ;)
I will not give in to the temptation to turn this into a no-holds-barred mommy smack down competition.
I will not scour the Internet for hours waiting for inspiration to smack me in the face.
And by God, I will not feel like a failure because I refuse to join this party insanity.
NOT GONNA DO IT.
Not that I'm gonna do nothing. I'm just not gonna try to do EVERYTHING.
Now, someone come tie me to a chair until Sunday evening.
No, really.
Sometimes you can't do it all, and that's okay.
*stuffs screaming, kicking, perfectionist self back into box*
Really.